Influence of the manufacturing process on the subsequent residual stress relaxation in AISI 4140 steel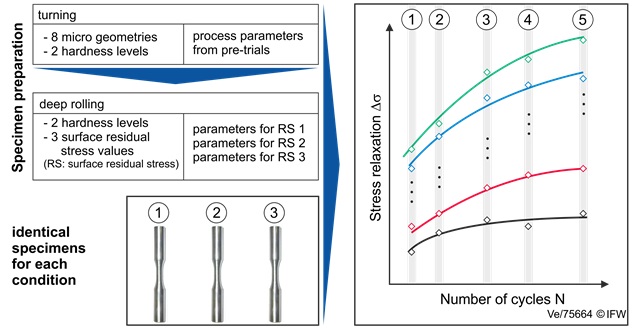 Surface and subsurface properties are the result of the production process of semi-finished parts and their subsequent machining. Residual stresses as a decisive lifetime determining factor are induced into the subsurface by a non-linear superposition of thermal and mechanical loads during machining. The exact interrelations between both effects are understood only very rudimentarily, hence e.g. a prediction or a specific induction of residual stresses is possible to a very limited degree. Comparable surface near residual stress states can be produced by different machining processes, as for example turning with asymmetrically honed cutting edges or deep rolling. In most machined parts with alternating loads, compressive stresses may increase lifetime, as they retard crack initiation and growth. The residual stresses, however, are relaxed by alternating loads. Descriptions of the residual stress relaxation behaviour are heterogeneous, partly even contradictory. This means that the mechanisms and interdependencies of residual stress relaxation have not yet been fully understood. Most investigations carried out so far to describe the relaxation behaviour focused on amplitude, frequency, kind and number of load cycles.
Thus, it is necessary to consider additional surface and subsurface properties, because their influence on stress relaxation has not yet been investigated systematically. Different machining processes may lead to comparable surface residual stress states, but other parameters like topography, microstructure, crystallographic texture, micro hardness, dislocation density are different and have to be taken into account as well in order to understand different relaxation behaviour. A rough topography for instance may lead to locally exaggerated residual stresses by the notch effect and thus cause an earlier failure than a smooth topography, though residual stresses are comparable.
Modern analytical methods are available, which allow an access to additional material properties, but also bear potential for further development. Extensive analyses of surface and subsurface enable the detection of differences at comparable surface residual stress states. Additional, formerly inaccessible information can be gained by in-situ investigations.