ReTool - Automatic Regeneration of Cemented Carbide Tools for the Production of new Tools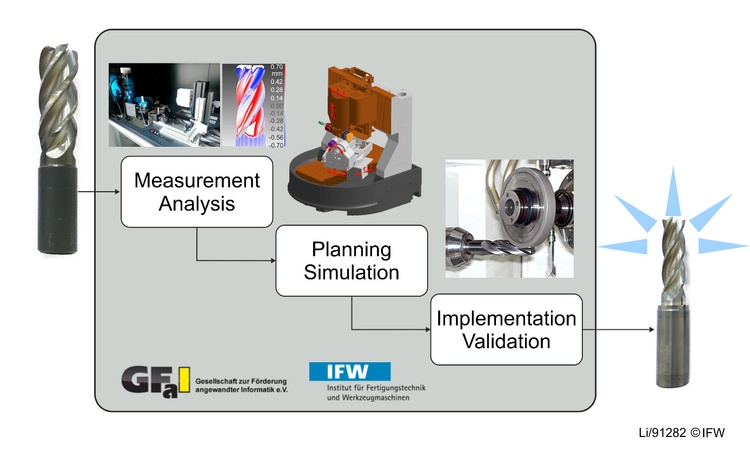 The aim of the research project is to develop a resource efficient recycling process of cemented carbide milling tools. This is to be achieved by using worn tools as blanks in a regenerative tool grinding process. The process enables a significant saving in energy and material, which is unavoidable in conventional carbide recycling processes through the pulverizing, impurities removal and sintering of the cemented carbide.
With the developed process from this project, worn cemented carbide milling tools can be reused for the production of new cutting tools. The shape of individual worn tools is measured by the developed 3D measuring system. The optimal matching of the worn tools and the target tools can be searched in a database by means of an analysis system. With the aid of a conventional CAD-CAM system, the planning of the regeneration process in implemented in the simulation system IFW CutS. Furthermore, the grinding process is optimized by adapting the feed rate. In the last step, the NC-program is transferred to the grinding machine and the machining process is started. The comparison with conventional manufacturing processes has shown that the manufacturing costs can be reduced by up to 50% with the regeneration process developed in this project.