CFK North/Stade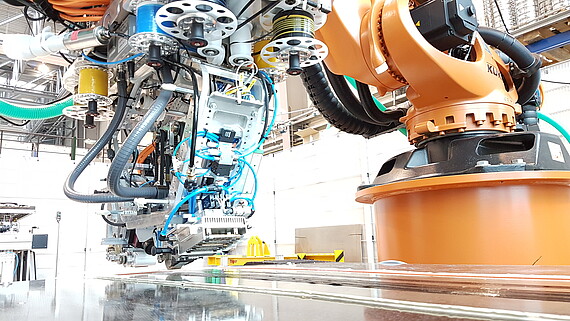 The division of Fiber Composite Technologies is located at CFK Nord in Stade. The research group consisting of the Institute of Production Engineering and Machine Tools, the Institute of Aircraft Design and Lightweight Structures of TU Braunschweig and the Institute of Polymeric Materials and Plastic Engineering (PuK) of the TU Clausthal works on a wide range of activities ranging from design and development of lightweight structures made of fiber-reinforced plastic composites and their production. Research focuses on experimental, theoretical and simulation-based methods.
Examples include:
Multi-matrix prepregs for property individualization of fiber composite structures (e.g. morphing structures)
Metal-CFRP hybrid structures for force transmission in thin-walled high-performance structures
Unconventional stiffening concepts for thermoset and thermoplastic carbon fiber composite structures
Integrated design and process planning methods from rough to detailed planning in aircraft construction
Fiber Placement Technologies for high speeds (3 m/s) and complex three-dimensional structures
Automated Draping Technologies with online impregnation
Process Monitoring Technologies and Machine Learning
Our range of services includes basic and applied research in cooperation with industry. In addition, we offer support in the development of products with lightweight construction requirements and relevant production solutions. As part of these projects, we also offer our students the opportunity to further develop their specialist skills through internships, student project works and theses at the CFK Nord Research Center.
Contact
Dr.-Ing. Carsten Schmidt
Management

Address
CFK-Nord, Ottenbecker Damm 12
21684 Stade
Dr.-Ing. Carsten Schmidt
Management

Address
CFK-Nord, Ottenbecker Damm 12
21684 Stade