Research Area Machine Tools and Controls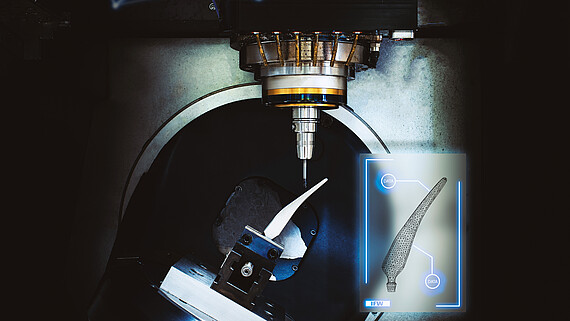 The division of Machines and Controls researches and develops novel components and technologies for machine tools with the vision of a self-learning and autonomous production of the future.
The division of Machines and Controls is divided into three departments. The research work of the department of Machine Technologies deals with novel machine concepts, machine kinematics and networked production systems. Through the use of magnetic technologies, sensory properties are achieved for process optimization or ultra-precision machining. In addition, a milling robot with optimized rigidity and an automated process chain for repairing turbine blades will be realized.
The Machine Components department deals with sensory and actuator systems for the realization of autonomous machine tools and production systems. The main topics of department include novel drive and guide concepts, sensory workpiece clamping systems as well as machine tool spindles and solutions for damping processes and structures.
The Process Monitoring and Control department focuses on data from the machine control and sensory components. The state of machine, workpiece and process is recorded on the basis of modern methods of signal processing, sensor fusion and machine learning. Intelligent compensation and control strategies are another focus of the department.
Contact to the Research Area Machine Tools and Controls
Dr.-Ing. Heinrich Klemme
Management

Address
An der Universität 2
30823 Garbsen
Dr.-Ing. Heinrich Klemme
Management